Introducing Video Tap's New Pricing and Subscription Plans
Hey there, friends of Video Tap! We're writing this blog post today with some pretty exciting news. We've heard your feedback, crunched the numbers, and come up with a new way to offer you even more value for your money. We're waving goodbye to our old pay-as-you-go system and saying hello to something much better.
Announcing our new pricing. Now we're 75% cheaper!
If you had 100 minutes of video, that would have cost:
Old pricing: $100
New pricing: $25
Goodbye Pay-as-you-go Pricing
Our old pay-as-you-go model of charging $1 per minute of video had its merits and helped us validate this small new business idea, but we've found a way to give you more for less. By reducing our costs, we're able to pass the savings right on to you, our valued users.
We also heard complaints about pay-as-you-go. Mostly, you all didn't want to pull out your credit card every time you wanted to add a video. That isn't the seamless experience we wanted to create. So, we're switching things up and moving to a subscription-based pricing model.
Introducing our New Subscription Plans
Now, let's take a moment to introduce you to the new 75% cheaper plans:
The Creator Plan: Priced at $25/mo, this plan includes 100 minutes with each additional minute costing only $0.25.
The Crew Plan: At $80/mo, this gives you 400 included minutes. Any extra minutes will cost just $0.20 each.
The Studio Plan: For $150/mo, you'll have 1000 included minutes and a bargain rate of $0.15 for each additional minute.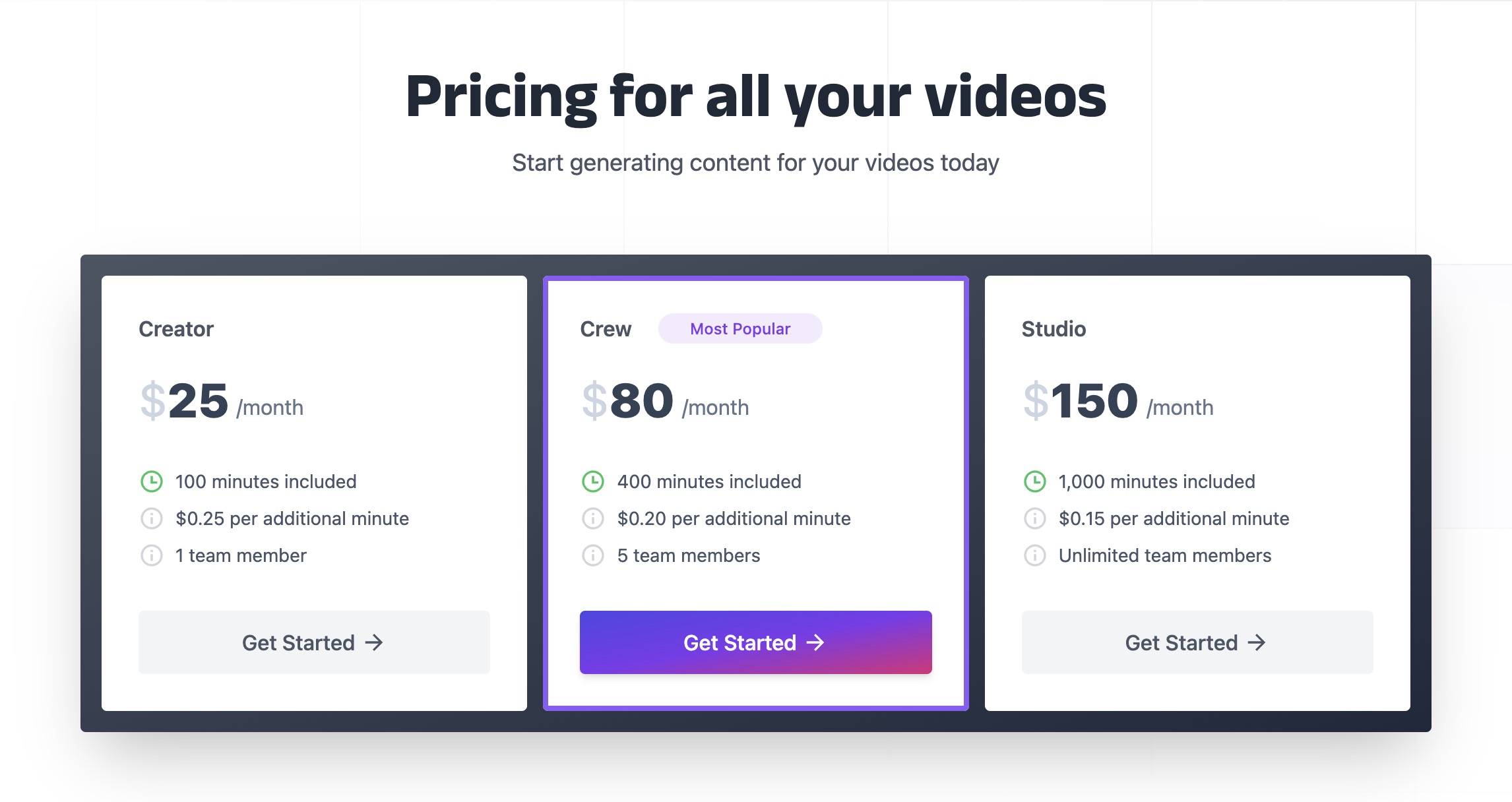 We believe these new plans offer more flexibility and better value for everyone. Whether you're a solo content creator, a small team, or a bustling studio, we've got you covered.
Change is good, and we hope you're as excited about these new plans as we are. Thank you for your continued support and for being a part of the Video Tap journey. We're looking forward to many more years of turning your videos into endless content together!